Lab 35 HP Edition by Atmizoo of Atmizone
The Lab 35 HP Edition is the 18350 version of Atmizoo's most innovative and hard-hitting mechanical mod, with the High Performance PEEK switch already pre-installed.
Available in either the SS Matte (machine brushed) finish or the SS Ice Matte (media blasted) finish, the Lab 35 HP Edition is a high performance 18350 mech mod based on Atmizone's robust uni-tube design.
Picking up where the Roller and Dingo left off, the Lab is a sturdier, simpler, and easier-to-use top-side-firing mechanical mod. With its refined, sturdy switch and absolute minimum number of body parts to fiddle with, the Lab is a high-efficiency device with performance and safety features unseen in current top-firing designs. Now, with the High Performance >>PEEK Switch<< pre-installed, the package becomes even more appealing.
The simplicity, ease-of-use, and >>performance of the Lab<< comes with a style that departs from the strict minimalism of the Roller and Dingo. The Lab has a slightly more aggressive form which is still minimal and ergonomic, in line with its unique character.
Out-of-the-box, this Lab 35 HP Edition does not offer a battery spring. It is strongly suggested that the devices are used in fused or direct mode (versus Spring-Loaded Mode), for performance and safety reasons.
For micro adjustments of battery space, as in fitting abnormally long batteries, or when using a Kick module, it is recommended that you use a conductive spacer or a battery spring to bridge gaps in Spring-Loaded Mode.
Recommended battery: >> KeepPower - "IMR 18350 1200mAh High Discharge Flat Top Cells" <<
Lab 35 HP Edition Features:
Sturdy, refined top-side-mounted switch with silver-plated brass contacts and twist-locking functionality.
The Lab switch is a smoother, more robust version of Atmizoo's innovative Roller / Dingo switch, a common point of reference for all current top-firing mech designs. All critical components of the new switch are heavily reinforced and 100% liquid-sealed. New switch versions have one twist-locking position (twisting a quarter-circle anti-clockwise) instead of two (older version) due to machining procedure refinements.
Robust, lightweight 304 food-grade stainless steel construction with a minimum number of parts for a low-loss, super-efficient operation, unseen in existing top-firing designs.
Configurable to use a Spring-Loaded, Springless-Fused, or Springless-Direct negative battery connection, for a high-performance or safety-oriented operation.
Dependable short-circuit protection (Springless-Fused mode) based on a super-low-voltage-drop, resettable >>PTC<< element, suitable for resistances down to 0.5 Ohm. Fuse is included with this device and already comes pre-installed in the battery cap.
Hybrid-style, future-proof top connection with open airflow.
Fits >>18490/18500 batteries<< or Evolv Kick2 by mounting a >>T16 Extension Tube<< (not included).
Safety / Performance Configuration Modes
The Lab sets a new standard in mech mod performance and safety, since it has been designed to include advanced safety features with a minimal or zero impact on the overall dimensions or performance of the device. Although IMR batteries are proven to be very safe, every short-circuit results in minor battery damage which affects the discharge characteristics of batteries and their ability to hold a charge. A single, prolonged short-circuit is often enough to cause permanent battery failure.
Out of the box, every Lab can be configured in 3 different bottom-cap-to-battery contact modes with different safety vs. performance characteristics: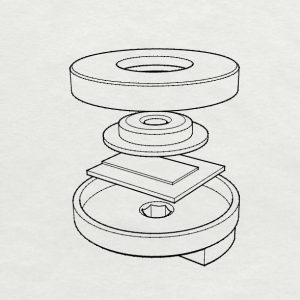 Springless-Fused Mode
In Springless-Fused mode, a high-performance protection module is assembled into the bottom cap of the device to protect your batteries and the mod itself from damage caused due to short-circuits. The fuse used in the Lab is resettable (does not "burn"), does not affect the dimensions of the device and has a negligible impact on performance when using resistances down to ~0.5 Ohm.
Overall, the >>performance of the Lab<< in the Springless-Fused mode is consistently higher than the performance of most high-end mech devices without any kind of protection built-in.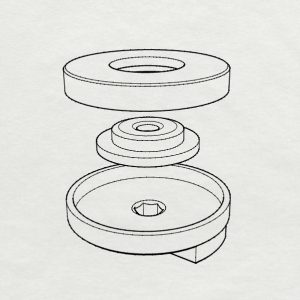 Springless-Direct Mode
A Springless-Direct cap contact is also included with every Lab, which can be used to remove all protection features from the device. When using the Springless-Direct contact, the voltage drop on the mod will be negligible, resulting in performance unseen in existing top-firing designs.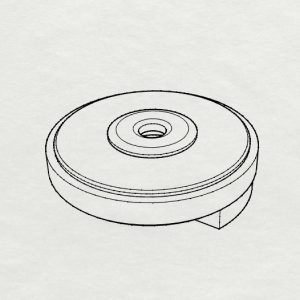 Spring-Loaded Mode
The Spring-Loaded mode is a compromise between performance and safety. Spring performance is on average higher than the performance of the fuse when using well-maintained and plated or high-conductivity springs. However, it is not as consistent, as springs tend to lose their flex with use.
The spring-loaded configuration is very useful for fitting abnormally long batteries, or when using long Kick modules, since it provides around 1.0mm of additional battery space.
Surface Finishing Options
The SS Matte finish is your standard machine brushed finish that is easy to clean, and matches most atomizers on the market.
The SS Ice Matte finish is a dynamic finish. It is not always the same and it gets darker over time. There is no need to worry though, as parts that appear to be different, will eventually look almost identical.
All finishes need cautious handling, but especially sand blasted finishes (Ice Matte) are more sensitive to scratches and surface aging.
Atmizoo by Atmizone Lab 35 HP Edition Specifications:
Body Material: 304 food-grade Stainless Steel
Available Finishes: Matte (machine brushed) or Ice Matte (media/bead blasted)
Diameter: 22.0 mm
Height: 63.5mm
Weight: 79 grams
Battery Type: 1x 18350 High discharge IMR lithium cell
Getting Started
The Lab is a 100% rebuildable, high performance mechanical mod of moderate complexity. It is suitable for experienced vapers who possess a good understanding of the nature of mechanical mods and electric power transfer, but it is also simple and easy enough to be used by intermediate vapers who have the desire to learn the ins-and-outs of their vaping gear in order to get the most out of it.
Mech mods are sophisticated, enthusiast-oriented vaping tools. By nature, a mechanical mod requires:
Proper handling.
Frequent maintenance.
Proper handling guidelines are specific to each device. Thanks to its uni-tube design, the Lab is a mod that is very easy to use without requiring constant attention. To help you get up to speed with your new Lab, we have written up a >> quick reference of 9 Important Tips <<, which also includes some more general, essential information about mech mods and vaping gear.
Battery / Kick Compatibility
Check out the >> Atmizoo Support Section <<.
Important: The >>LA-T16 Extension Tube<< limits the battery diameter to 18.40mm maximum, which means that some (usually low-quality) batteries with thick insulation may not be able to pass through it.
If you are planning to use an Evolv Kick with the Lab 35 and a >>LA-T16 Extension Tube<<, you should be aware that the Evolv Kick 1 / 2 modules are produced with a loose length tolerance: Units with a max length of 17.80mm (2.80mm oversized) may also be found. This means that with certain 18350 battery / Kick combinations, the Kick might not allow the bottom cap of the Lab 35 to close completely. In most cases, the Kick length issue can be remedied by configuring the device in Spring-Loaded Mode.
Use only original, high-drain, low-internal-resistance 18350 batteries such as the >> KeepPower - "IMR 18350 1200mAh High Discharge Flat Top Cells" <<.
Warranty and Support
The Lab comes with a fair and generous >> warranty <<, which covers all manufacturing defects.
DISCLAIMER: Mechanical mods are for experienced vapers with access to meters and a working knowledge of Ohms Law, Watts Law, battery safety, and how general electricity works. Please ensure care is taken as to not cause damage nor harm to the atomizer, your battery, the vaping device, yourself, others, or personal property.
Vapes by Enushi is not responsible for misuse of product, or dangerously low coil builds. Vapes by Enushi is not liable for the use of improper batteries for your builds.